nanocosmos and Videon deliver ultra-low latency live streaming workflow to accelerate rollout of interactive applications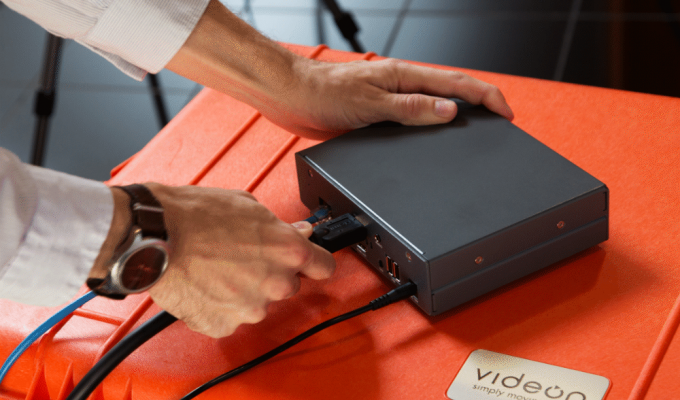 nanocosmos and Videon have announced that they are partnering to provide an ultra low latency live streaming workflow based on Videon's edge compute encoder technology and nanocosmos' ultra low latency live streaming nanoStream Cloud. Enabling about one-second end-to-end latency and two-way active engagement, the new live streaming workflow will support emerging interactive applications such as auctions, sports, and other live events.
nanocosmos has created H5Live technology for plugin-free delivery and playback on any device and HTML5 browsers, including Safari on iOS. H5Live is part of nanoStream Cloud, a scalable live streaming solution and ULL CDN with a global footprint. Videon's edge compute encoder platform moves compute and time-intensive cloud processes such as transcoding, transrating, and format packaging to the edge rather than the cloud. Combining these technologies ensures ultra low latency that achieves the market disruption anticipated by nanocosmos and Videon.
nanocosmos and Videon have optimized the integration between these technologies, with nanoStream Cloud and H5Live Player accepting encoded video from Videon's edge compute encoders, which accept both HDMI and SDI inputs. Thanks to this technology integration and resulting live streaming workflow, platform operators, content creators, and OEMs can quickly develop and deploy new applications with complete confidence in the interface between on-premises ingest equipment and the cloud.
"nanoStream Cloud and H5Live Player enable live video delivery around the world in about one second," said Oliver Lietz, CEO of nanocosmos. "The partnership with Videon ensures we can quickly deploy an end-to-end platform that can be applied to a wide range of interactive applications."
Todd Erdley, CEO of Videon, said: "Our edge compute encoder platform was designed to push the limits of low-latency streaming. And this partnership with nanocosmos takes low latency right to the edge of what is possible and really makes interactivity in streaming applications a reality." 
Company Name: