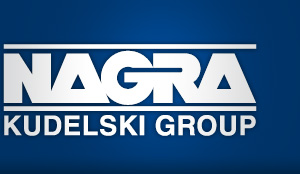 At IBC 2018, Nagra will demonstrate new propositions and current innovations that address the entire content value chain – from content and service creation to content delivery and consumption. Nagra's latest technologies and solutions in end-to-end content value protection, engaging user experiences and smart business operations, will be on display on stand 1.C81 under the theme 'Smartly Digital'.
"Pay-TV service providers are at a crossroads between OTT add-on services and true digital transformation, where the lines between pay-TV and OTT are blurring and making way for the 'post-OTT' era," said Ivan Verbesselt, senior vice president, group marketing, Nagra. "To grow and thrive, service providers must become 'smartly digital' – by embracing cloudification, actively claiming the aggregation role and leveraging data-driven principles to define and evolve their consumer propositions, they can embark on a journey of continuous solution renewal to optimize the next phase of growth in a vastly different competitive landscape."
NAGRA's IBC 2018 showcase will feature Nagra, OpenTV, Conax, NexGuard, and DVnor product lines all under the Nagra brand.
Nagra IBC events:
The Pay-TV Innovation Forum's 2018 global findings provide the backdrop to Nagra's IBC showcase. A flagship report will be released ahead of the show. In its third year, the Forum addresses the key opportunities and challenges facing pay-TV service providers and content owners, exploring the winning strategies, technologies, products and services that could help them unlock new growth opportunities and drive innovation in the 'post-OTT' era.
'Television Heroes @ IBC': Nagra will host an exclusive thought-leadership and debate session featuring European industry leaders, followed by a networking event, on Friday, September 14 at 6 pm. It will explore the digital transformation drivers that underpin 'Hero Brands', from new content partnerships to back office technologies to the adoption of client platforms such as Android TV.
dtv.nagra.com
Company Name: