Witbe announces the launch of QoE Snapshots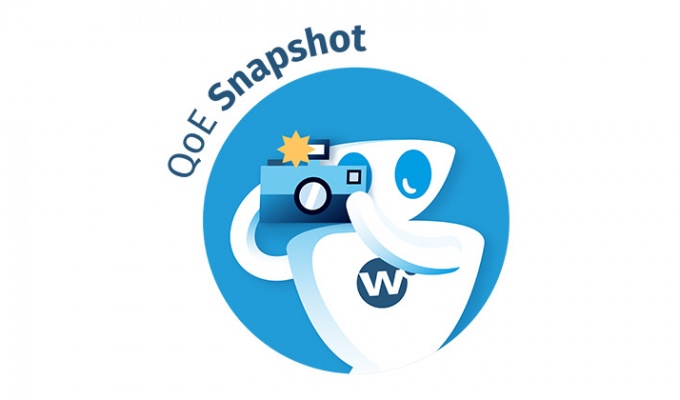 Witbe, leader in Quality of Experience Monitoring, has announced the launch of its QoE Snapshots. In the same way that a consumer report tests a product and publishes an analysis of its overall quality, the Witbe QoE Snapshots tests digital services to make available to the market information on the true Quality of Experience delivered internationally. These QoE Snapshots should not serve as benchmarks, nor as rankings of operators by service, or by device. Rather, the goal of these QoE Snapshots is to provide a global overview of digital services, with multiple configurations and in various environments. The public will thus be able to better understand the technological complexity inherent to today's services, like the distribution of video content. It is quite a technical feat – considering the efforts and means implemented – to broadcast videos on different devices and networks, with a quality that is acceptable by consumers with high expectations.
Since its origin, Witbe relies on a non-intrusive technology, based on Robots measuring the quality truly delivered. The Witbe Robots are placed at the edge of distribution, and connected to test devices, the same ones as those used by real users. The Robots measure the Quality of Experience actually delivered to the end-users by providing KPIs on the availability, performance and integrity of the service. For its first QoE Snapshot, Witbe is publishing a look at the quality of OTT video mobile app in the United Kingdom. The OTT video apps selected were BBC iPlayer, BT Sport and Sky Go. The KPIs measured and verified were App Launch Time (ranging from 3.2s to 5.8s), Login Time (ranging from 1.2s to 5.8s), Video Initial Buffering Time (ranging from 2.8s to 5.2s), and the video quality (ranging from 3.7 to 4.5, on a scale from 1 to 5), measured by Witbe VQ-MOS – Witbe proprietary video quality algorithm. Among other findings, this QoE Snapshot reveals that all three apps have quite an overall satisfactory experience, some operators prioritizing faster video loading times, while others preferring to focus on the video quality. The full results are available on Witbe blog.
Marie-Véronique Lacaze, co-founder, president and chief executive officer at Witbe, said: "We are happy to launch our QoE Snapshots. This comes eighteen years after our initiative in France which led to the creation of the first observatory for the quality of Internet services. By opening its technology, expertise and analytical skills to the market – and with its own means, Witbe aims to help users better understand how digital services work and the efforts and essential arbitrations done by the different actors. This is only the beginning and new QoE Snapshots will be published shortly and on a regular basis. Upcoming QoE Snapshots will focus on the quality of live videos on OTT Set-Top-Boxes, such as the Apple TV, the availability of e-commerce websites, and the quality of videos watched on mobile networks."
Company Name: