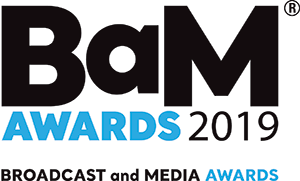 IABM has announced the shortlisted entries for the IBC2019 edition of it BaM Awards. The shortlist has been selected by the judges from yet another record number of entries – 197 – a clear indication of the value that technology developers place on the recognition provided by the BaM Awards. The BaM Awards recognise innovation in each the nine BaM Content Chain categories, together with a tenth award recognising an outstanding project, event or collaboration.
The panel of 40+ non-affiliated, expert judges is now examining the shortlisted entries in close detail. Visits to the stands of shortlisted companies will take place once IBC2019 opens to complete the judging process. The eventual winners will be announced at the IABM BaM Awards Party on Saturday 14 September, with drinks and canapes in the IBC Executive Lounge from 6pm, followed by the awards ceremony in the Forum at 7pm. Tickets are still available for IABM members and the trade press.
"Both the huge number and high quality of the entrants to the IBC edition of the BaM Awards shows that innovation continues to drive our industry forward," said John Ive, IABM director strategic insight and chair of the judging panel. "These are the companies that are helping broadcast and media organizations transform into agile content factories fit to win and retain audiences as the competition for eyeballs becomes ever more intense."
The shortlisted entries are:
Create
Atomos – Neon
BR Remote – CB180
EVS (product name embargoed)
MRMC (a Nikon Company) – Polymotion Stage
Produce
Dolby Laboratories – Vision Content Creation Tools 4.0
Matrox – M264 S4 Codec Card
Sonifex – CU2 Configurable Dante Commentary Unit
STRYME (product name embargoed)
Manage
Piksel – Fuse iQ
Spicy Mango (product name embargoed)
Squared Paper – Busby Microservice ESB toolkit
Wiremax – Media Services
Publish
DAVID Systems – Hand in Hand Publishing
Friend MTS – Piracy-iQ
MainStreaming – The HyperNode
Rohde & Schwarz – BSCC 5G broadcast service and control center
Monetise
Arvato Systems (product name embargoed)
MEDIAGENIX (product name embargoed)
SpotX – Spot6
U-TO Solutions – AdsValU airtime sales and proposal management system
Consume
EPAM & Liberty Global – Horizon 4
Kaltura – Targeted TV Launch (3SS ready)
Massive – AXIS targeted UX platform
Singular.live – Interactive Digital Overlays
Connect
DELTACAST – ST2110 Software Stack Virtual Card
Matrox – Monarch EDGE 4K UHD/Multi-HD Encoder
Ross Video – Ultrix IP Software Defined Platform
Techex – EDGE
Store
Cloudian – HyperStore Xtreme Powered by Seagate
Quantum – F Series
Spectra Logic – BlackPearl RioBroker
TV Logic – NPS-10 Portable Back-up Storage
Support
Rohde & Schwarz – PRISMON.cloud
Telestream – OptiQ Monitor
VisualOn Inc. – Remote Lab
Vocas Sales & Services – Tracis Lens Scanner
Project, event or collaboration
Dejero – Live broadcast and production of the world's first interactive rock concert
Make.TV – Live Video Cloud helps ESL break viewership records
Ross Video – China's CCTV Mission to the Moon Documentary
Vidispine AB – vortech.by/ Technology Summit
The winning entries will automatically be submitted for IABM's prestigious Peter Wayne Golden BaM Award®, with the winner announced at the IABM Annual International Business Conference and Awards in December 2019. 
Company Name: