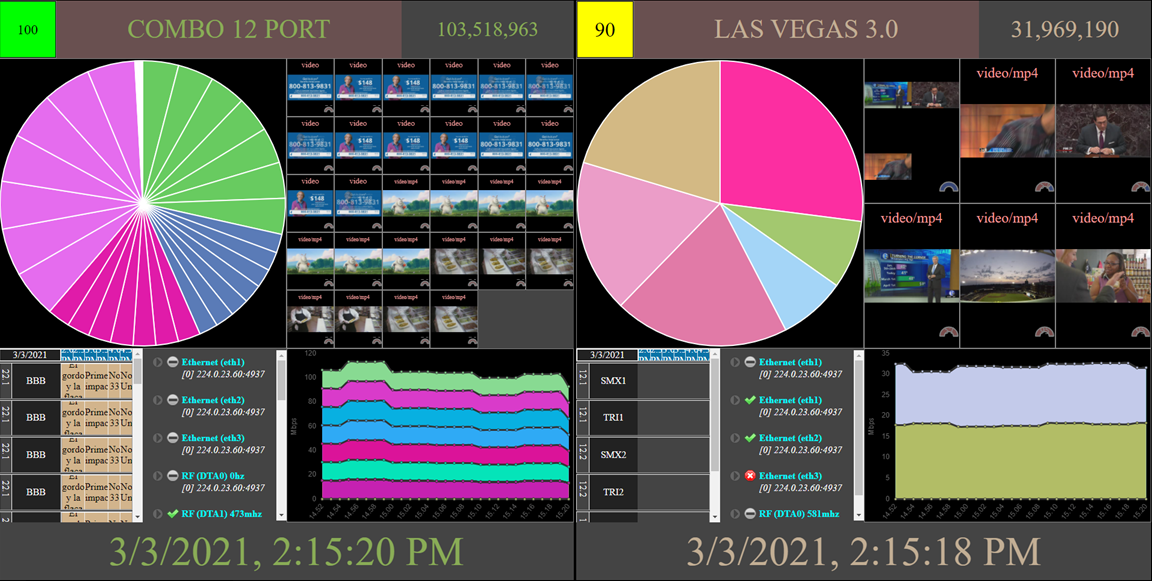 Triveni Digital has announced an optimised version of its StreamScope XM Analyzer. The StreamScope XM Analyzer is now enhanced with a 12-port input card from DekTec, allowing broadcasters and cable operators to simultaneously analyse multiple ATSC 1.0 and ATSC 3.0 streams. Through a single StreamScope XM user interface, broadcasters and operators can detect, isolate, and resolve quality-related issues for ATSC 1.0 and ATSC 3.0 streams and data structures with increased efficiency, speed, and cost savings. 
"Today's broadcasters and cable operators need to quickly analyse multiple TV signals to assure exceptional-quality television experiences," said Ralph Bachofen, vice president of sales and marketing at Triveni Digital. "Adding a 12-port input card to our StreamScope XM system enables our customers to analyse ATSC 1.0 and ATSC 3.0 streams concurrently in the whole DMA without having to purchase additional equipment. Our mission is to simplify ATSC 3.0 deployments, and the latest version of our StreamScope XM fulfills the objective by providing broadcasters with an efficient and economical solution for NextGen TV." 
Triveni Digital's StreamScope XM Analyzer is integrated with a 12-channel PCIe receiver from DekTec, offering support for 12 receivers on one card, including a mix of terrestrial (ATSC 3.0, ATSC 1.0, and 8VSB) and cable (QAM) signals. All 12 channels are demodulated simultaneously, allowing users to monitor a complete network in real time. As broadcasters transition from ATSC 1.0 to ATSC 3.0, they can seamlessly switch over each receiver within the software, future-proofing their operations. 
The new 12-port input version of the StreamScope XM eliminates the need for customers to use a separate input card to analyse multiple ATSC 1.0 and ATSC 3.0 streams. This version of StreamScope XM is perfect for stations transmitting multiple ATSC 1.0 and ATSC 3.0 signals, duopoly broadcasters, and cable operators needing to analyse numerous broadcast signals in a single designated market area (DMA). The 12-port input card has also been integrated seamlessly into Triveni Digital's StreamScope Enterprise solution, enabling broadcasters to consolidate their video quality management operations and simplify analysis for multiple DMAs. 
Triveni Digital's StreamScope XM Analyzer has become an essential tool for ATSC 3.0 trials and deployments, providing complete, real-time analysis of ROUTE, MMTP, and STLTP streams from RF, Ethernet, and file inputs at multiple delivery points. StreamScope XM is deployed by leading broadcasters in the US, including Meredith and Sinclair Broadcast Group. 
Company Name: